Testimonials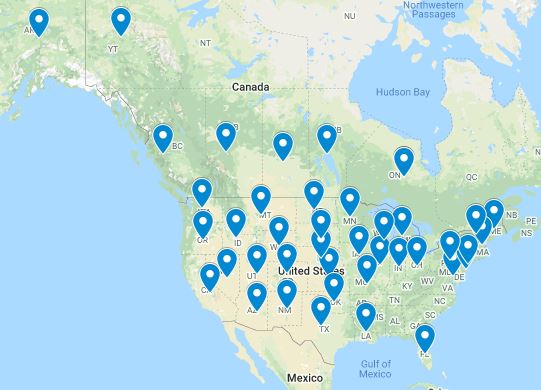 Map indicated where our patients live
2022/11/24
Kathleen N.
Everyone was kind and seemed concerned that they provided good care. They helped me make an informed decision on what services I needed. The specialist who did my root canal was excellent, I had no pain and the staff was great too.
2022/11/23
Robert B.
Friendly and on time service with good prices.
2022/11/23
Tim T.
Excellent and Professional Dental care. Dr. Leb
Has been my dentist for 12 years. I have recommend Amazing Dental to many friends and acquaintances and they have been very satisfied.
2022/11/22
Charlene N.
2022/11/20
Mary Jean C.
The drivers were great, Mark and George.  
Everyone very friendly at Amazing Dental. The place is spotless!!  Cleaning woman is great!
2022/11/18
Paul H.
Friendly personable approach, quality of service excellent
2022/11/17
PegGy S.
Professional, caring, cleanliness, atmosphere
2022/11/16
Brent M.
Appt was right on time. The dental team was extremely efficient,  professional and communicated every step of the process with  me.
2022/11/15
Janie K.
As usual you never fail….from the driver to the dentist and to the  schedulers. I was treated with such respect but also with quality  care.
2022/11/14
Brenda C.
Dr was sensitive to my needs and seemed to really care and make  my experience as pleasant as possible.
2022/11/09
Edwin M.
You get so much done in such a short time thank you
2022/11/06
Janie K
Starting with the transportation all the way to the end it was  amazing. The dentists thought out of the box to accommodate me  and everyone is very friendly. I felt very comfortable. The quality  of care and equipment is superb. Cleanliness outstanding.  Thank you
2022/11/03
Malcolm M.
Caliber of expertise and caring attitude of staff is exceptional.
2022/11/03
Lynda M.
The competency & gentleness of all involved, made this an almost  pleasant experience.
2022/11/02
Dianna W.
Everyone was very professional and answered all my questions. The gal that put my permanent crowns on did a wonderful job at making sure they fit just right. I love how clean the office is. I especially like the idea of having transportation furnished. Ron the driver was very accommodating and is good for your business. Thank you for another great experience.
2022/10/29
Howard H.
The attention to detail, and making sure the crowns felt like they  should. I'm happy with their guarantee that they would work out  any problems until I was satisfied.
2022/10/27
Frederick B.
The cleanleness of your facility, and the most fiendly people that  were always making sure that you were comfortabley during the  proceedure!!!!!
2022/10/26
Beverly B.
My dentist was Sam we was very kind. Explained everything. We  will be back.
2022/10/25
Donna P.
Everyone is just so kind and caring and concerned about how you are doing throughout your procedures.
2022/10/19
Marilyn R.
Your staff and dentists were exceptional. Every procedure was excellent. Had bridge work and a root canal.
2022/10/19
Carl S.
Professionalism , staff were very attentive to every need, making sure you were comfortable at all times, very professional dental practice from the time you make your app to the time you leave.I for one was very impressed. Best CS
2022/10/18
Mary H.
Over all I was very impressed!  
Had an exam and a dental cleaning. No wait time at all, super  efficient working staff.  
The exam was straight forward and honest. The Dentist said  exactly what was needed short term and long term. Best Ultrasonic Dental cleaning I ever had. 
Very professional, experienced and friendly Staff. Will be making  Amazing Dental our go to Dental place. Well worth making the  trip!!
2022/10/15
Mark N.
Staff very nice, professional and very dedicated to their work. Thank you for honoring veterans of the military as well!
2022/10/09
Jack D.
Very professional and very organized
2022/10/05
Bruce E.
The staff here is terrific , friendly ,knowledgeable and professional  . Guide you thru every step and alternative.
2022/10/01
Roger H.
Professional quality knowledgeable
2022/09/29
Brenda F.
I have been treated with the greatest people at Amazing Dental.  Everyone is professional and caring. Sam took great care to be  sure my bridge and crown fit perfectly. Aden pulled my tooth 3  weeks ago and did an outstanding job. I am impressed with the  instructions given to me to insure the best outcome.
2022/09/21
Francine K.
Dr Edel was very caring about the look of my teeth. He was very  patient with the adjustment needed and valued my opinion. The  lab technician came into the dental office to see what needed to  be done.
2022/09/21
Linda K.
I was able to be seen quickly, staff was kind and professional. My  care was excellent!!
2022/09/19
Kathleen G.
Very clean facility. All dentists and assistants very friendly and  efficient. So very pleased with my implant-my crown is perfect color and shape. Necessary for me as it was a visible tooth in  front. Impressed at how dentist worked to get it just right!
2022/09/13
Larry M.
The care, expertise, and friendly staff made my root canal, Two  teeth prepped for crowns and cleaning a good experience.
2022/09/11
Kathleen G.
All staff and dentists very friendly and efficient. I am having an  implant and I was amazed at my temporary tooth! I worried how  it would look because it is in the front of my mouth, but I needn't  have worried because the dentist took great pains to insure that  my tooth fit properly and looked good. So impressed! And I've  never been in a cleaner facility!
2022/09/09
Keith J.
What I like the most you all were kind , and took the time to figure  out was needed for me my case is complicated and I felt very safe  and secure in good hands , I have family coming to visit Me and to  
have some dental work done , I'll bring them to Amazing Dental ,  Thanks So much Keith
2022/09/08
MICHAEL R.
Everything about this experience was "Amazing"! Everyone I met, from the driver, Gary, who took me to and from Mexico, to your office staff, to the dentist, Dr. Sanchez, his assistant, Cassandra, and the person who presented the treatment plan and cost (I think she said her name was Ixtel, I hope I've got that right) were very friendly and accommodating. I had two teeth pulled, the first was "easy", the second much more difficult but Dr. Sanchez and cassie did a careful job to get it right. Afterwards, Gary walked me across the street to Farmacias Marys to get my prescription filled. I'm sure Gary knows everybody in Los Algodones. Then he saw to it that we got back across the border with no issues and on to home.
2022/08/23
Sharon N.
Awesome staff. Gentle dentists. Safe & clean place.
2022/08/18
Debby W.
My dentist is kind and reassuring
2022/08/09
Carol Ann B.
Transportation from GoodLife to appointments. A very caring  staff makes the procedure I'm much easier for someone that has  difficulty with dental work. Everything I had done I have was great.  They look at what needs to be done and gives you a firm price and  they don't talk you any to what you don't feel obligated to have it  done. It can be addressed at a later date.
2022/08/09
Beverly H.
Beautiful facility and it's nice to have an English translator in the  room with you at all times. Very efficient and kind staff
2022/08/09
Warren H.
Dr are very gentle and care about your needs along with being  efficient and quality of work being performed.
2022/08/08
Doug Podola
Personal attention to detail and fit of work
2022/08/06
Marie P.
every person there are absolutely perfect and the work is perfect
2022/08/04
Tania R.
Always attentive and gentle. The place is clean and Brite. Very personable but professional.
2022/08/04
William S.
Fast, careful, honest assessment of work to be done and then success just as fast. SINCERE THANKS!!
2022/08/04
Dona S.
Great care, honest opinions, fast and quality service
2022/08/02
John F.
2022/08/02
Sandra O.
Dr. Daniella and her Team are so professional and thorough. They really care about the patient and want them to be completely happy and satisfied with the results. Truly Amazing!
2022/07/30
Dale L.
Could have just done a procedure and made money BUT they gave  me choice if I wanted to see if meds. would help it. Still may have  the root canal done, But at least trying the best way for me first.  They care about their patients.
2022/07/23
Dorothy W.
From the front desk to the finish the staff seemed happy to be there and really cared about me and their role/job at Amazing Dental. I cannot say enough about their professionalism, knowledge, and customer service. EXCELLENT! I have had so much dental work throughout my life and am very tired of it all. I wish I would have come to Amazing Dental years ago. I would have been much happier about my mouth and my pocketbook!! Thank you all!!
2022/07/23
Mary Y.
Amazing Dental's staff are so reliable and professional and caring. They do a top rate job for a wonderful price.
2022/07/21
Chao B.
As always Amazing has been amazing again
2022/07/20
Timothy J.
Professional  
Clean 
Not pressured
2022/07/15
Tom D.
The service and price make the experience amazing. The friendly  atmosphere of the office is not found today North of the border.
2022/07/13
Richard B.
Amazing Dental does it all. They help with the transportation,  provide friendly service with no pressure, and stick to their low  prices that cannot be found in the states. Good people all around  and it's been a fabulous experience.
2022/07/09
Joseph M.
The staff appears to be very professional and well trained. Their  leader, Dr. Leobardo, is a special person and is obviously well  versed in the art and science of dentistry. The whole team is  curteous and goes the extra mile to assure that the patient is  satisfied with their experience.
2022/07/06
carol H.
Very clean, polite, informative, professional and affordable.
2022/07/06
Roylester H.
Very timely and courteous service. I received a extremely detail  inspection of my mouth. Normal English was spoken to me. Each  proposed remedy explained. The quotation for the proposed  work to be done was very reasonable. Lastly, I received a cleaning  that was the best I ever had. Highly recommend, They excelled in  cleanliness and professionalism. I will recommend their services  to all my family and friends
2022/07/04
Mary C.
The office was easy to find, very clean and modern. The Dr told  me exactly what my perio doc has been saying for years. I was  very pleasantly pleased. I told Dr. Leobardo (I'm sorry but that's  all I remember) that he is now my dentist.
2022/06/26
Lynn E.
The dentist was constantly asking if I was okay and not in any pain.
2022/06/16
Sandra O.
Dr Daniella and her team of professionals are AMAZING!!! They are so professional, diligent and thorough. Everyone works so hard to ensure that patients are comfortable and satisfied with results.
2022/06/09
Marian H.
Very professional work and I'm happy with my outcome of a new  dental bridge.
2022/06/08
Stacey W.
The process was very easy and fast. I very much appreciated the transportation and being able to get my crowns completed 2 days apart. The cost compared to US prices saved me a bunch of money! No issues whatsoever!
2022/05/28
George I.
A totally professional operation, fast, efficient, clean and friendly  staff. Much better than my dentist in Vancouver, WA. The trip in  your van driven by John was also a very pleasant experience.
2022/05/26
Catherine T.
I had a 5 unit bridge completed successfully! The Dr that did my exam X-rays etc was very nice and through! Everything was explained to me before the procedure was started and while being completed. The Dr that did the drilling etc was very nice, patient and compassionate! The technicians were great too. I felt at ease.
2022/05/21
Robert R.
The dentist & 2 assistants installing by bridge & crown. They fitted both perfectly. Everybody was really friendly & helpful.
2022/05/18
Cathy H.
2022/05/15
Virginia B.
The professionalism and caring shown by the individuals.
2022/05/14
Carolyn J.
The staff was very efficient and got the job done quickly. But, I  never felt rushed and they took the time to make sure everything  felt OK and there were no issues before sending me on my way.  Dr. Sam was so kind and helpful to recognize that the appearance  of my teeth affected me emotionally, He supported me and  reassured me throughout the exam and process of getting crowns  on my front teeth. I am SO GRATEFUL that Amazing Dental's staff  did a SUPERIOR job and it was affordable for me.  
I also appreciate the transportation offering. It made the trip  worry-free.
2022/05/12
Chao B.
Both Dr Leo and Dr. Jeaus are amazing just like the name of your  clinic I will recommend to anyone anytime
2022/05/10
Jerry D.
Ease of doing business, professional staff, quality of service
2022/05/10
Sandra O.
The Dentist and dental team were thorough and efficient! They make patients feel very relaxed and well taken care of.
2022/05/07
Steve J.
Friendly, professional and competent.
2022/04/29
David H.
My hygienist spent a lot of time making sure she had removed all  of the plaque from my teeth. It was very bad. She did not rush.
2022/04/29
Carrie H.
The attendants were very professional and e.xplained everything  to me and it was a painless experience
2022/04/29
Cheryl I.
Such an easy process!! In & out quickly. VERY nice dental staff. So  kind & obliging. Went out of the way!! I have had 2 drivers…John  & Gary. Both very safe & pleasant. Went out of their way. Tom is  
quick to respond & help!! I have recommended Amazing Dental to  many.
2022/04/28
Robert D.
Drs & staff were all very professional. Care was wonderful & every  step was explained perfectly.
2022/04/27
Robert D.
I was nervous at first appt, but that sooner passed, everyone was  very friendly and all procedures were done very professionally.  Impressed with sanitation & and indivisible attention by everyone.
2022/04/23
barry J.
Very Courteous, Professional and Friendly! 
from the first appt call to the end!! 
We commented on how the Employees all seemed to be hard  working and Happy People! We like Happy People!!
2022/04/22
HAROLD W.
tHE PROFESSIONALISM OF THE PERSONNEL, THEIR REALLY CARING ATTITUDE AND MANNERISM.
I HAVE BEEN THERE A NUMBER OF TIMES AND HAVE NEVER BEEN DISAPPOINTED IN THE CARE I GET.
2022/04/21
Donald B.
Easy in & out dental treatment, painless/ gentle procedure, quick  and top it off with transportation for a great price.
2022/04/20
Steven B.
Dr and assistant explained what they were going to do and  answered any questions that I had. They made me feel  comfortable during the procedure.
2022/04/20
Valerie S.
I was able to get an appointment very quickly and was treated with the utmost respect. My dentist was very accommodating and took excellent care of my needs. I will definitely return in the future. The only thing that I was wondering about was I was told that there wasn't any transportation available at this time but when I was in the waiting room, I'm sure that people were talking about the transportation that they received??
2022/04/19
Karen F.
I feel like a real person as you people relate to me with kindness  and professionalism. They are also fast and usually efficient  beyond what I have experienced in the US. A small cavity was not  discovered in the exam, nor after temp crown (from my home  dentist) was removed, but, thankfully, the new temp crown came  off before my appointment for final today, and I felt roughness  and it was corrected. This review is for date below. And regarding  important factors: ones I didn't check is because I didn't know  about them prior to coming to Amazing, but I am certainly glad for  them.
2022/04/19
Cathy H.
2022/04/19
Roger H.
Friendly professional state of the art equipment reasonable  Thank you
2022/04/15
Denise B.
Everyone was efficient and very kind, the office is very clean and I  think they did a great job!
2022/04/14
Linda G.
The dentist & staff are very friendly. They do a thorough job as  quickly as possible. Answered all of my questions. 
Very compassionate.
2022/04/14
Gary J.
My appointment was at 10:00 am two days in a row and they had  me sitting in the chair right on time. They were very efficient and  did an excellent job. I was very satisfied with my first experience  here. Thank You
2022/04/11
WILLIAM H.
Very clean and professional
2022/04/08
Terry J.
Very knowledgeable about dentistry. Explained in detail what you  should have done and why and let you decide how much you  wanted to do!  
Very friendly, happy staff. Very helpful at desk to get insurance  papers in order to claim on your insurance.  
Super contact with van drivers to get appointments worked out  before you leave dental office. Can't say enough.
2022/04/08
Mary K.
Everyone at the clinic were so friendly, careful & truly cared about  how my bridge would fit & look
2022/04/07
Jim M.
Very efficient, well organized. Dental work was very professional  and i'm very pleased with results! Had some reservations before  hand, no more.
2022/04/06
Tom G.
Beings it was first time we were picked up at crossing. Very helpful  as didn't know where to really go. Friendly- organized- explained  well- fast and efficient- and inexpensive
2022/04/05
HAROLD W.
TRANSPORTATION WAS VERY NICE.
WAIT TIME BEFORE BEING SEEN WAS ONLY A FEW MINUTES. DENTIST WAS VERY PROFESSIONAL, ESPLAINED X-RAY WELL, HELPED ME MAKE A GOOD DECISION.
GREAT SERVICE ALL AROUND. COST WAS AWESOME! THANK YOU1
2022/04/02
Rose F.
AMAZING DENTAL has a wonderful Staff. I am an Arizona  Snowbird from North Dakota. They do not pressure. I was told  what I could do to save my teeth. Then it was to me to decide.
2022/04/01
Marie P.
everything was perfect no complaints have been
going there for 5 years now and they drive me
there and the drivers are very good
2022/04/01
Curt K.
All staff very friendly and helpful. Specialists were very careful to  make all procedures as pleasant and painless as possible. Shuttle  van driver was very nice and accommodating. Thanks all! 🙂
2022/03/31
Dale B.
Very clean facility, hardly felt the anesthesia, happy with end  result.
2022/03/31
Connie O.
The staff is amazing, down to the cleaning lady that never stops, up to the doctors! I was very impressed with the dental assistant this time, she was very good.
2022/03/29
Nancy R.
Everyone smiles, is polite and respectful. Questions and concerns are always taken care of promptly. I find transportation a huge benefit and all drivers are courteous and kind . They go above and beyond in service.
2022/03/26
Roselyn P.
They are very patient and are anxious to please!
2022/03/25
Joanne D.
Very clean and efficient. The staff was friendly and knowledgeable
2022/03/24
Rose F.
Loved my Day in Mexico with such caring Dentists Couldn't ask  for a better expertise Staff. I wasn't sure whether I wanted to go  there. Now I'd refer my best friend and kin to do so
2022/03/23
Sheila B.
Over the top service! Excellent dental treatment. Shuttle from  Phoenix is so much appreciated.
2022/03/23
William T.
George was a great Driver. Things moved along very nicely as I had a lot to be done. 5 crowns and a root canal. I was done with the first phase in under two hours. It was clearly communicated to me what and why things were being done or recommended.
2022/03/23
William T.
George was a great Driver. Things moved along very nicely as I had a lot to be done. 5 crowns and a root canal. I was done with the first phase in under two hours. It was clearly communicated to me what and why things were being done or recommended.
2022/03/16
Michael C.
No pain. Efficient, fast. I wouldn't use anyone else. Good  transportation too.
2022/03/13
Connie S.
Pleasant staff! Very clean!! They had free coffee!
2022/03/12
John B.
My appointment was on time. No waiting. Very friendly staff.  Answered my questions in a way that I could understand. The  shuttle was nice to use. Prices were fair.
2022/03/12
Russell T.
I love your entire staff. I used your transportation to and from Mexico and it was wonderful.
2022/03/11
Bruce S.
Dental practice was very organized and professional. They moved people through the process quickly. They took people that required more work first. The transport service made it very easy to get in and out of Mexico.
2022/03/04
Henry L.
trustworthy service from qualified dentists; door to door service  was good; cleanliness of the staff and office.
2022/03/03
Jon J.
The dentist educated me on how to work with my partial so it  would be comfortable. Everyone is so polite. I am VERY HAPPY  with Amazing Dental.
2022/03/02
Frank T.
Very professional, courteous, and effort was seen preserving cleanliness. It is in an extremely safe environment and I highly recommend Amazing Dental. This was my 4 th visit.
2022/02/27
Lola P.
Cleanliness was obviously a priority at your facilities. The professionals who worked on me were top -quality and made me feel comfortable at every step.
2022/02/27
Maria Luz V.
Ron is an excellent driver! We arrived on time and had minimal time waiting. The dental staff was professional, friendly, and polite as usual. 🙂 I feel truly blessed having discovered Amazing Dental.
2022/02/26
Brian G.
Amazing staff. Every visit. 10 plus years.
2022/02/25
Donna A.
The dentist and staff who participated in my care were attentive,  gentle and thorough. They answered all my questions before  performing the dental work. Everything was done to my  satisfaction at a quarter of the cost. I will definitely return.
2022/02/24
Barbara W.
The whole experience from free ride to treatment was all as promised. The doctor and techs were efficient and courteous. We have used Amazing Dental before and will continue to do so. We recommend them often.
2022/02/23
Chao B.
As usual Dr. Leo is the most effective and compassionate dentist I  have ever seen I will recommend him to anyone I know
2022/02/23
Doyle N.
3 P's : Price, Professionalism, Prompt Service
2022/02/22
Don M.
Very efficient, sanitary and painless.
2022/02/22
Mike D.
The office staff is very friendly and the Dentist and their staff were  great.
2022/02/19
Maria Luz V.
The whole staff from start to finish were professional, polite, and efficient! … as usual 🙂
2022/02/17
Chris B.
Very professional, fantastic pricing and a great job. Cleaning, 3  Crowns, 2 root canals and a bridge.
2022/02/16
Larry B.
Been coming here for years. Always worth the trip
2022/02/13
David W.
The dental staff is as good as I have ever experienced. The driver of the shuttle was exceptional.
I look forword to my next use of your services.
Thank you very much.
2022/02/13
Karen L.
Amazing Dental Care is an A1 professional operation. It  consistently, demonstrates its commitment to excellence in the  provision of its dental services. As importantly, it is completely  dedicated to creating a welcoming, safe and warm atmosphere  that puts everyone at ease. Further, I would say their drivers are  one of their secret weapons in so successfully achieving his special  atmosphere. Well done!
2022/02/09
Avis M.
Warm, welcoming and friendly environment. All staff very  knowledgeable and skilled.
2022/02/09
Debra W.
The staff was just the best. They made my very comfortable and explained every thing in detail. It was just the best ever.
2022/02/08
Marlene I.
The entire process went fairly smooth. From the initial appts to  the shuttles and the staff was very accommodating and friendly.  I've already recommended
2022/02/08
Sandy S.
I had a specialist for each procedure. That was very comforting.
2022/02/05
Monroe C.
Very sanitary, very clean, didn't wait long for my treatment.  Answered all my dental questions.Didn't push any extra dental  work.
2022/02/05
Robert R.
The rear crown installation went very smooth. The new crown fit perfectly. The staff at Amazing Dental was very helpful & friendly. The free shuttle was also a great experience. All the drivers were very friendly and helpful.
2022/02/02
Joanna H.
Staff helped make me feel at ease during the dental procedure  and luckily I was able to get in for my appointment on time as  scheduled. The facility was clean and welcoming.
2022/02/02
Carol T.
Dr Leb is wonderful and caring and very gentle also dr. Sum. Elizabeth is a wonderful caring young lady. I would also like to say I really like Rosa she is a great interpreter. Thank you. See you again soon.
2022/02/01
Harold T.
From the driver to the cleaning lady everyone was very courteous and made absolutely sure you knew what was going on and how the process would be handled. ( the cleaning lady made great coffee ))
2022/01/29
Dorothy R.
I had quite a lot of work done in one setting and they were so efficient,caring and concerned. They explained as they did each step.
I would definitely go back to Amazing Dental.
2022/01/28
Norman I.
I always enjoy meeting with Dr Leo…It makes a difference when  even after visiting only once every two years he remembers  me…very good doctor and friend 
My thanks to Gary and Mark for making the trip to and from very  relaxong.
2022/01/27
Carl N.
Amazing Doctor, great staff, I had a two day appointment and they were able to get everything done in 1 day. Thanks
2022/01/26
Sandra C.
Fast, efficient and friendly. I was completely at ease during the  whole process. Very professional, caring staff: from reception to  the dentist. They make sure they do quality work so you have no  future problems and you walk away confident in the work  performed.
2022/01/24
David F.
Fast, efficient, effective, painless, affordable. 
I had a root canal, two crowns, a filling, and a cleaning. I highly  recommend Amazing.
2022/01/20
Debra L.
Taken care of quickly and no pressure to have procedures done  that were recommended
2022/01/18
Art K.
Diagnosis and take care of any problems promptly. The ride back  and forth is a great service that is provided.
2022/01/14
Susan W.
The staff at Amazing Dental go out if their way to make your experience at the dentist as easy and painless as possible. They are very caring and considerate of the patients comfort and well being.
They are most knowledgeable and professional
I would highly recommend this dental office
2022/01/13
Denise M.
The dentist and his hygienist were prompt and efficient and my  crowns feel great so far! This is my second year coming here and I  definitely recommend the service and the clinic
2020/02/20
James A.
While in AZ I lost a crown- It was an easy process. Call to make  the appt, a ride and appt day was scheduled. I met the van to be  transported to the appt and ride back! I felt like had good dental  care!